Turcopoles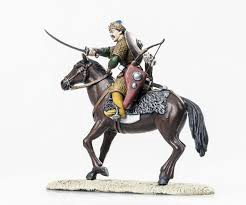 1229; in that year, Muslim forces attacked Jerusalem, and the city's Christian population, who had found shelter in the citadel, sent for succor (help) to Jaffa. A Christian army hastened towards the holy city, while a light-mounted 'reconnaissance-in-force' was dispatched ahead of the main body in order to investigate what lay between the main army and Jerusalem, and to make contact with the besieged, assure them of the approaching relief.
Inside the citadel; women were trembling with fear and children were whimpering while clutching their mothers tightly. The men were on the citadel walls keeping a fearful vigil while peering into the horizon with looking glasses for any sign of approaching help. The cold night air was filled with despair and gloom.
As the dawn approached with impending doom a sentry on the northern walls cried out; "Turcopole… Turcopoleeee". At this, the men scampered on to the walls and peered into the horizon. There's no mistaking it. Nobody could gallop at pace on the difficult ascent from Latrun but the Turcopole. Once the men saw their banners, took heart, scampered down, and gathered their weapons while shouting "Turcopole… Turcopole". Suddenly there was much merriment in the citadel with the women clapping their hands and singing. And the wide eyed children dancing with joy. The men sallied out of the citadel, falling upon and defeating the dispersed and looting Muslims. As the Muslims started to flee, the Turcopoles dashed in to make a fearful dispatch at them. After a lively pursuit, a bloody massacre ensued, and all in all about 2000 Muslims were killed.
The main Frankish army, having reached Latrun, found that its assistance was no longer needed, and therefore retired to Acre.